When I stumbled upon
The Tiny Twig
's blog post "
Why Blog, Anyway?
" I thought I knew exactly why I was blogging. But now I'm beginning to wonder -- again -- because, like most other bloggers out there, I want my blog to be well received and loved by all.
I go through funks where I get sad because it feels like nobody is visiting my blog and leaving comments, and then I get excited because I have a new person following along, and a few comments on each new blog post. It can be hard sometimes when all I hear are crickets on my blog for a little while, but then I have those people who regularly visit me and genuinely like what I have to say or share.
Besides myself, those are the people that I am really writing for: the people that have taken an interest in my life and what I have to say, and that is why I continue to blog. I like sharing my opinions with you, telling you little stories about my day, and showing you a new recipe that I have tried out.
As hard as it can be sometimes, I know that I should keep truckin'. I have to remember that I don't blog to make everyone happy.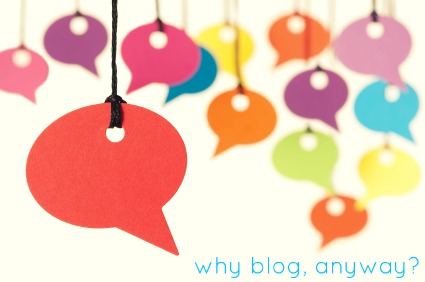 Why do you blog?